FTSE slips amid renewed global growth fears  
Bumi shares drop 30% as coal miner investigates allegations of financial irregularities
Fund manager Neil Woodford tells off BAE boss
Defence technology firm Qinetiq rallies on strong results
JJB Sports appoints administrators
(Update) The FTSE 100 slid 29 points or 0.5% to 5,823 amid growing concerns over the global economy and the eurozone crisis.
In Europe the Euronext 100 dipped six points to 663 and in the US the S&P 500 is expected to open lower when Wall Street resumes trading this afternoon.
The downbeat mood was partly caused by a comment over the weekend from the People's Bank of China that the mighty Chinese economy was not rebounding in the third quarter.
Reports that Greece's current budget deficit is double what has been reported revived fears around the eurozone.
These were heightened by Spain's economy minister Luis de Guindos, who said the country would not rush to seek external aid to finance its debts. Investors are waiting for Spain to apply for help from the European Central Bank so it can start its bond-buying programme, which is seen as crucial for stabilising markets.
However, de Guindos' comments could simply reflect his government's unwillingness to move before local elections in the Galicia region.
All this gloom meant mining stocks resumed their downward path with Evraz (EVRE.L), Anglo American (AAL.L) and Vedanta Resources (VED.L) the biggest fallers with declines of between 1.2% and 2.5%.
Our FTSE home page shows all the day's risers and fallers but here are some of the key stocks.
Bumi looks at allegations
Bumi (BUMIP.L) plunged nearly 30% or 60p to 136p after the coal miner started an investigation into allegations of potential financial and other irregularities at its Indonesian operations.
The company said the allegations related to PT Bumi Resources, Asia's biggest thermal coal exporter, in which it owns a 29% stake. Development funds at PT Bumi Resources are a focus of the inquires, it said.
Bumi listed in London over a year ago but its share price has slumped, hurt by rows with co-founder and financier Nat Rothschild and concerns over its debts and corporate governance. The shares have fallen 83% so far this year, valuing it at around £220 million. 
Last month Jakarta-listed Bumi Resources fell to a three-year low after posting a first half loss of $322 million caused by weak coal prices and a surge in costs.
Bumi share price: Click to enlarge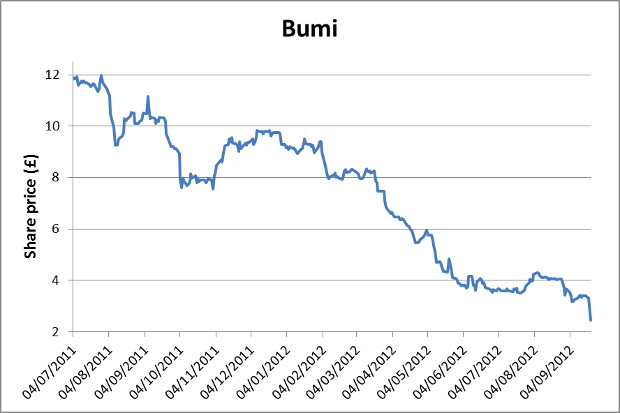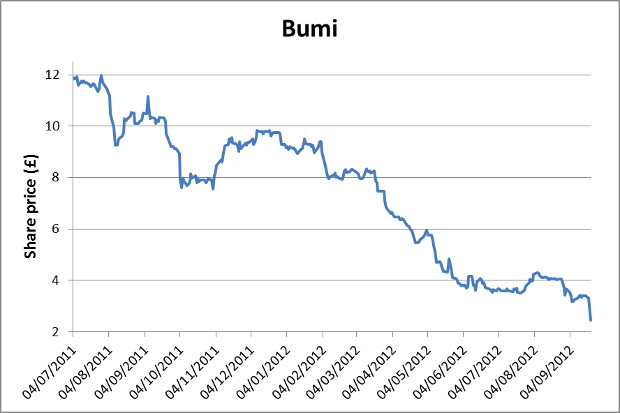 Xstrata (XTA.L) shed nearly 19p or 1.9% to 986p on reports it was considering holding a separate investor vote on a controversial bonus programme so that shareholders can express their opposition to that without derailing its £56 billion pound merger with Glencore (GLEN.L), down 11.5p or 3.2% at 350.5p.
BP (BP.L) added 1.5p or 0.4% to 442.5p on plans by the oil giant to appoint a Russian to its board as it tries to seal a new commercial partnership with the Kremlin and buy a stake in Rosneft, the state-owned oil company.
Qinetiq complains of poor visibility
QinetiQ (QQ.L) rallied 10.5p or 6% to over 182p after the British defence technology company reported better than expected first-half results but complained of poor visibility as a result of political and economic uncertainty.
Although its US business is suffering from delays in government contracts as the Obama administration seeks to cut defence spending, its UK and global products divisions did well.
Analysts at Liberum raised their 2013 earnings per share forecast by 17% to 17p but rated the stock 'hold' saying the shares traded on a 10% premium to UK rivals and had outperformed the FTSE 250 by 30% over the last 12 months.
Qinetiq, the former state-owned defence research agency, is a top 10 holding of the JOHCM UK Dynamic fund run byAlex Savvides, who was last A-rated by Citywire his performance in April.
The company is due to brief analysts on Wednesday at its Farnborough HQ, which could lift the shares further.
QinetiQ share price: Click to enlarge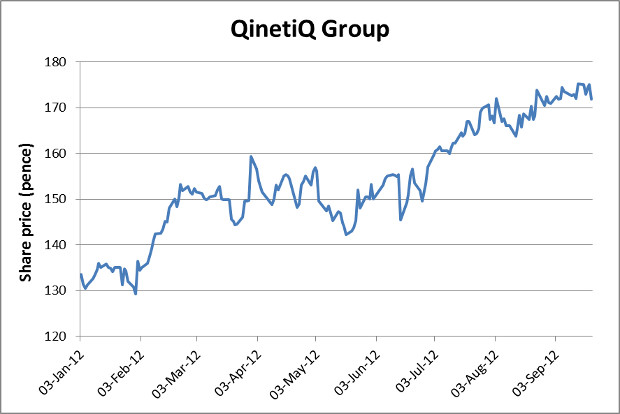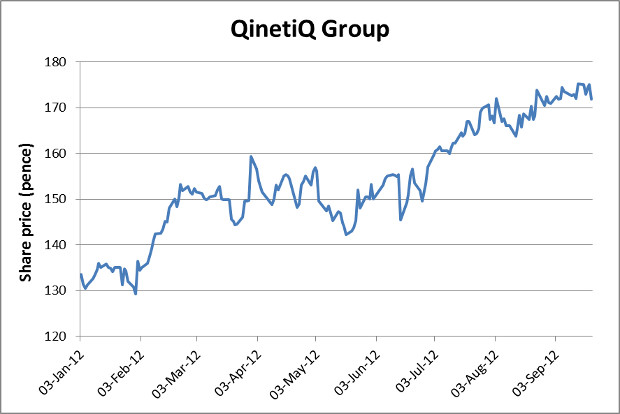 Neil Woodford unhappy with BAE
Meanwhile, BAE Systems (BAES.L) dipped 4.5p or 1.3% to 335.5p on reports it had warned EADS it would walk away from their proposed merger if the deal threatened its relationship with the Pentagon.
Although the prime minister has backed the £35 billion deal it faces big political hurdles and shareholders are unhappy with the lack of consultation.
Neil Woodford, head of UK equities at Invesco Perpetual which owns 13% of BAE, was reported by the Financial Times to have given BAE boss Ian King a dressing down at a meeting last week over the impact of the merger on BAE shares  and the abrupt change in corporate strategy that led to the talks.
Profits fall at AG Barr
AG Barr (BAG.L) slipped 5.5p or 1.3% to 445.5p as half-year profits fell 8% to £14.9 million and the Irn-Bru maker had no news on its merger talks with drinks rival Brtivic.
It said the second half of the year had got off to a good start but said it expected trading to remain challenging.
Last week one of the firm's long-standing shareholders, Nick Train, the manager of the Lindsell Train and Finsbury Growth & Income investment trusts, said he was 'inclined' to support the deal but said he would scrutinise the terms once they were published.
Analysts at Panmure Gordon maintained their 'hold' stance saying the shares traded at 20 times forecast earnings and incorporated most of the benefits from the proposed merger. The broker forecasts full-year profits to be 2% higher at £34.3 million.
New Man falls
Man Group (EMG.L) fell 1.75p or nearly 2% to 87p after it issued proposals for a new group holding company, dubbed 'New Man' which will issue new shares on a one to one basis to its investors. The move is part of restructuring aimed at giving it more financial flexibility and enabling it to maintain its dividend.  The shares have fallen by 30% this year and yield 15%. Shareholders will vote on the new structure on 17 October.
And the end for JJB Sports (JJB.L) is nigh. The struggling sports goods chain firmed slightly to 0.4p as the company appointed administrators to undertake a potential sale of its assets.