Tim Clay and Mark Rogers are using their creative skills to the full as they work hard and play hard to grow their business, Clay Rogers & Partners.
Tim Clay and Mark Rogers, founders of Clay Rogers & Partners, have so many hobbies they joke that 'the business is just a sideline'. But in reality the opposite is true. The pair, based in central Birmingham, work long hours in the office, from 7.30am until 6pm. After that they often do more work at home or attend social events as part of their 'unstructured networking' and charity work regime.
Work-creativity connections
Clay sings in a rock band called the 'Demons of Tune,' which raises money through regular gigs attended mainly by Midlands-based accountants, lawyers and corporate financiers. According to the band's website his 'luscious, rich voice has been described as listening to liquid caramel oozing out of a warm marshmallow whilst sitting on an eiderdown, in a mattress factory. Asleep'.
Another fund raiser that Clay organises is the Clay Rogers Corporate Ski Challenge, involving a similar group of professionals.
Rogers is just as colourful a character. He previously worked as a musician with some success in the 1980s supporting famous bands like Aztec Camera and The Icicle Works. He has started recording again recently and the proceeds from his current musically eclectic album, A Brave New World, also go to charity.
Five years ago, Rogers became friends with prominent Canadian artist Eric Waugh, who persuaded him to reawaken his creative side. Waugh's vividly colourful pop fusion paintings now adorn the Clay Rogers office, a spacious workshop conversion in central Birmingham with its own gym. The artist also designed the cover for Rogers' album and was due to fly to the UK for some associated fundraising work a few days after this interview, all done through Clay Rogers' business connections. This will include donating around £80,000 worth of art work for auction.
Rogers says: 'We try to put something back. A lot of people don't. It's been missing from business. But we earn a reasonable amount of money and it's only right and proper.'
Corporate focus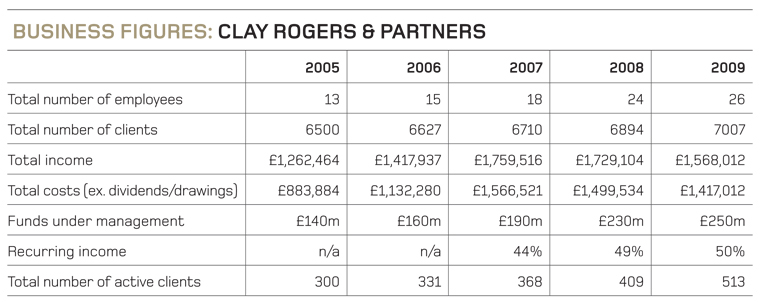 Rogers and Clay set to work with a blank canvas when they resigned from their respective companies and set up together in 1995.
Within six months of launch, they had acquired the financial services practice of a large general insurance broker, which doubled their turnover from £250,000 to £500,000 in the second year of trading. Since then they have made two further acquisitions and set up joint ventures with two accounting practices. The firm's current income is £1.5 million and funds under management are £250 million.
'We funded that first acquisition ourselves and didn't take a salary for three months,' says Rogers. 'We didn't know how long it would take. But buying that client bank made us quite a mature business quickly.
'It was a good start but hard work as they weren't particularly happy clients. We started being new style advisers even then. We've always disclosed commission and fees fully.'
Due to a shared interest in company pensions, the duo's focus was initially on corporate work but that has changed over the years. 'The business used to be split 75:25 corporate to private. Now it's about 40:60 the other way,' says Clay.
'Personal financial planning has really taken off because in 15 years those businesses have grown into maturity. They sell up and that leads into personal financial planning. The more you deal with company directors, the more personal advice they want and the more you get to deal with professionals in Birmingham.
'Now we get most of our work from matrimonial, private client or corporate lawyers; and from existing client referrals.'
Nest building
Rogers and Clay anticipate that the national employment savings trust (Nest) proposals will make the pendulum swing back and are gearing up to take advantage.
'The market has evolved again; we're gearing up for a rise in corporate work,' says Rogers. 'With the introduction of stakeholder pensions, there was a lot of corporate work because employers had to comply with legislation. That tailed off after the downturn in 2001.
'Now, with the Nest proposals, there are 1.1 million employers who have to do something in the next two or three years; either investing in new schemes or bringing existing schemes up to standard. Auto-enrolment is so complicated. So there will be a massive rise in corporate work again. Historically, a company needed 500 employees to afford employee benefit consultants, but smaller companies will have to do this now.'
Clay says: 'A significant number of employers will have problems implementing Nest and communicating it to their members, and they need professional advice. If you get the fee structure right, it's got to be profitable.'
Clay Rogers has launched a proposition that will effectively make it pensions manager for corporate clients and take over responsibility for implementing and running auto-enrolment. The proposition will also make use of a corporate wrap.
Wrap scepticism
The Nest proposition will be the duo's first foray into true wrap waters. 'We've been slow to embrace wraps,' says Clay. 'Initially our view was that it was more convenient to the adviser than the client.
'Some of the earlier ones failed. Had we got involved then, it would have created more problems than it solved. Now the wrap market is maturing and we have been looking at global asset management for clients.'
Clay Rogers was instrumental in the development of The Master Account by Tilney (later acquired by Deutsche Bank), which is described as a valuation platform rather than a wrap.
'The Master Account allows clients to look at the global picture of their assets – Sipps, bonds, ISAs, discretionary portfolio and legacy assets – and drills down into global asset allocation,' Clay explains.
'So it allows clients to see total net worth but doesn't constrain the user to one provider or product. So you could have an AXA offshore bond alongside a Standard Life or James Hay Sipp, for example. Deutsche Bank provides it as part of its annual management fee, provided you have £50,000 minimum funds under management with it.
'Our clients typically have more than £250,000 so the vast majority of them are on it. It has worked very nicely. We gave that idea to Deutsche and they developed it,' he says.
'I remember hearing [about the concept of the] new model adviser on PIMS one year,' says Rogers. 'I came back and described to Tilney and other discretionary managers what I thought we needed to be doing. Tilney were the only ones who came back and said "yes we can do it". We weren't interested in any of the other wrap providers then.'
Meet the team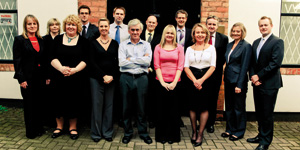 (from left, back row) administration manager Sally Henry; consultant Richard Cresswell; pension & employee benefit administrator Steven Tipton; managing director Mark Rogers; consultant Antony Pearse; director Gervase Lancaster; senior paraplanner Helen Parker; paraplanner/consultant Michael Shepherd; (front row) financial planning assistant Diane Webb; compliance & occupational pensions manager Karen Grimley; administrative assistant Tracy Holmes; financial planning assistant Martin Bickley; commissions manager Melanie Lovick; personal assistant/receptionist Karen Sannio
Investment approach
Clay Rogers outsources to discretionary managers and chooses from a panel that includes or has included: Quilter, Brewin Dolphin, Ruffer, Williams de Broë and Standard Life Wealth.
The firm is planning to introduce an in-house investment option, providing a passive-active blend with the help of OBSR fund research and Ibbotson asset allocation.
'There will big downward pressure on investment management fees over the next three to five years,' says Rogers. 'It's happening already. Vanguard, for example, is doing portfolios for 20-30 basis points (bp). If you also bring a wrap in, paying another 50bp, it's got to be doing something special. Every cost in the advice process has to be justified.
'[Discretionary managers] usually rebate 50bp to us. We are renegotiating because their charges and underlying fund charges need to come down, while our charges probably need to go up. We've had some success, some brick walls, but we carry on the debate. They have to get to grips with that massive downward pressure.'
Clay Rogers is standardising in the lead up to the retail distribution review (RDR) by forming a full investment committee, writing down the full processes and, says Rogers, 'constantly asking questions of our managers'.
'I like to think we are ahead of the game, so we have not had to change that much,' he says. 'We've outsourced investments since the late 1990s. We segmented our client bank some time ago. We have the processes already, it's just about being hyper critical, making sure it's formalised and getting everyone's buy in. We analyse it to death but I don't think you can do too much of this.'
The current split of straight fees versus 'fees offset against commission' is 50/50. Straight fees are usually time costed, although they do some set fee work against an estimate which they seek authorisation to exceed.
Rogers says: 'We have a significant number of straight fee agreements with corporates. But lots of personal clients are still getting to grips with paying full fees. We are fully set up to manage the RDR process though, even if that leads to no commission anywhere.'
Growth and exit strategy
Clay Rogers has eight advisers and is about to appoint two more. 'We are likely to keep expanding,' says Rogers. 'The problem is finding good quality people on administration or advice.'
As with many financial planners, existing income took a hit in the stock market crash but the overall figure remained steady because of the addition of the two joint ventures firms, which operate as appointed representatives.
Questions about the future provoke some interesting discussions between the two founders. 'No further acquisitions are planned for the moment. We need to consolidate, streamline procedures, embed the new investment proposition and ensure RDR readiness,' says Clay.
Rogers says: 'We wouldn't go out and buy another practice now. It requires capital and you've got to watch your capital adequacy. But if there were good advisers who wanted to come under a wing, and could bring expertise and fee income, we would take them on.
'Our emphasis is to service our clients and give them the right holistic advice for the right price. Our target for recurring fee income is 80%. After that there is potential for a sale. When we first set up everyone said: "You get it right, and then sell". I'm not so sure any more.'
Clay interjects 'Not so sure about what!?' and whispers to me: 'We will sell it!'
Social networking
Both men agree that their evening work has been essential to the success of the business. 'When we first set up, we decided to go to one particular bar, used by accountants and lawyers, every Friday night,' says Clay.
'Birmingham is a very close-knit community. It's like a village. But there's a massive amount of work to do. For example, the more merger and acquisition work there is, the better for us as it creates lots of work.'
Rogers says: 'We don't overtly network, but we create an empathy with these people. It has to be unstructured. We don't do breakfast meetings and stand up and say "this is what we do".'
Clay continues: 'I prefer to be visible by the fact that I sing in a band which is based on the corporate finance community. It's a laugh, we're not looking to be judged on our musical qualities although, having done it for a while, we make quite a good noise. At the last gig, we made £16,000 for charity. We only do things for charity and don't want to take work from jobbing musicians. We just want to put on a party for all our mates.
'I don't have spare time. What's the point of spare time? I get bored,' he says. 'I coach rugby and cricket, I ski, sing in a band, have a family. I'm a voluntary guardian of the Birmingham Assay Office, where they hallmark gold. I do long hours in the office, but it's fun as well.'
'We have loads of other interests,' says Rogers. 'As well as the band, I play golf and watch Birmingham City FC. It's good fun. And we have some good staff here, which is very important.'
Providing they can both sing from the same song sheet when it comes to exit strategy, all should be well.
Five top tips
Always do what you say you are going to do

Don't take yourself too seriously

Work hard and strive for excellence

Be gracious in victory and humble in defeat

Always listen and learn something new every day
CV: Tim Clay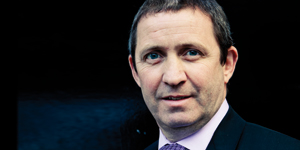 CAREER
1983-1985 Young, Claridge and Richmond, financial consultant
1985-1995 Ingram Hawkins and Nock, director
1995-present Clay Rogers & Partners, executive chairman
PROFESSIONAL MEMBERSHIPS/QUALIFICATIONS
BSc (Hons)

Cert PFS

FPC 1,2,3

CeMap

G10, G60

Resolution accreditation
CV: Mark Rogers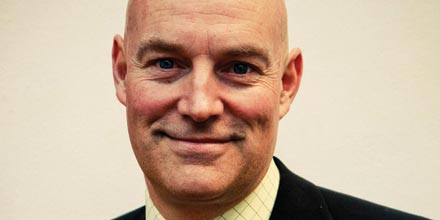 CAREER
1982-1985 Noble Lowndes & Partners, pensions administrator
1985-1987 PCPT Architects, assistant company secretary
1987-1995 Daly Harvey Morfitt, life and pensions director
1995-present Clay Rogers & Partners, managing director
PROFESSIONAL MEMBERSHIPS/QUALIFICATIONS
BA (Hons) (Exon)

Cert PFS