Paula Steele and Campbell Edgar have overhauled John Lamb's advice and investment process to give clients the capital preservation they want and are using their own distributor-influenced fund.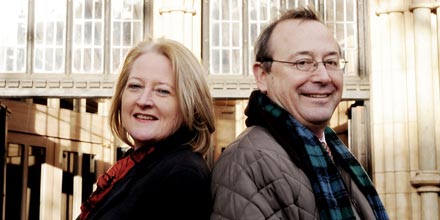 Paula Steele, managing director of John Lamb, has learned some important lessons about investment since New Model Adviser® first interviewed her in 2007 and is using her knowledge to guard against future market shocks. The firm was investing in hedge funds before the 2008 crash. In a few instances, for example Ermitage Asset Selection and Matrix Event Driven Retail, these became too illiquid to pay out, resulting in some client money being side-pocketed even to this day.
'It was a relatively very small amount of money, but clients were nonetheless cross about it,' says Steele.
The experience has not put her off using hedge funds as she believes they still play an important role in smoothing returns, but the firm is now more careful about the construction of and controls governing hedges.
In 2010, Steele's first, brave step was to introduce a distributor-influenced fund (DIF) called Galatea, modelled on Standard Life Investments' Global Absolute Return Strategies (GARS) fund. She then recruited head of private clients Campbell Edgar, previously of Bloomsbury Financial Planning and Andersen Charnley.
One of Edgar's tasks has been to bolster the advice and investment propositions and together he and Steele have overhauled the process.
Steele has a vivacious personality, finishing many of her sentences with a smile and a giggle. There is an iron will (and fist – her main hobby is boxing) beneath that and she keeps a firm grip on power at John Lamb, a 52-year-old partnership that she joined in 1978. As well as owning 97.5% of the firm, which she acquired gradually between 1984 and 2003, she also has a controlling interest in Independent Strategic Solutions, which owns the marketing and distribution rights for Galatea.
Attitude to DIFs
Despite the general controversies over DIFs and the Financial Services Authority's (FSA) concerns about them, the crash persuaded Steele it was necessary to have one. 'In 2008, the biggest investment risk that clients faced was the fund manager,' she says. 'We wanted control of the process and Galatea has a lot of downside protection.'
Edgar says: 'Clients want "capital preservation plus a bit" and to not worry about shocks. Paula sought to create a fund that provided this and spent two years researching the options. We ended up with something that looked like the Standard Life GARS fund, except that the 70% invested in managed funds is not constrained to one manager. GARS only invests the 70% equity and bond exposure in Standard Life funds.'
The other 30% is in what Edgar calls a hedged 'insurance policy' against market shocks. 'It comprises derivative-based hedge strategies which have little or no correlation to equity or bond markets,' he says.
'They are held in a separate fund and are ring-fenced from the equity and bond funds. They cannot affect the latter. They are marked to market on a daily basis and 100% cash collateralised so there is no problem with liquidity. This means that if there was a downturn in one or more equity or bond markets, Galatea would continue to perform.'
Distributor-influenced fund
Steele named the DIF Galatea after the ivory statue carved by Pygmalion of the sea nymph he fell in love with in Greek mythology. The name literally means 'she who is milk white'. 'The point is, it's white, shiny and people love it,' says Edgar.
The fund is managed by Standard Life Wealth (SLW), a separate operation from Standard Life Investments, which manages GARS, but which still has access to the ring-fenced 'insurance policy'.
According to Edgar: 'GARS did very well in 2008 and 2009, and fell by much less than other funds. Galatea was launched in May 2010 with a target of returning Libor plus 3.5% throughout the cycle, net of annual management charge.'
Steele says that, although Galatea is technically a DIF, 'it doesn't have any of the criteria that the FSA is concerned about. It is in a separate company and run by different staff. It costs the same as other funds we use. The advisers here don't get any more money from cramming funds into it.
'Our advisers have no share in the business and we don't buy out any advisers' clients because the clients are John Lamb's not theirs. There is no conflict of interest there.'
On average, Galatea occupies 15% of portfolios with the rest taken up by funds from John Lamb's model portfolio range, which the team created 18 months ago.
'Galatea is very low on the volatility spectrum,' says Edgar. 'The lower risk portfolios have more in Galatea. At the higher end, they have none or a small percentage. It performs similarly to GARS but has outperformed it, due to the open architecture.'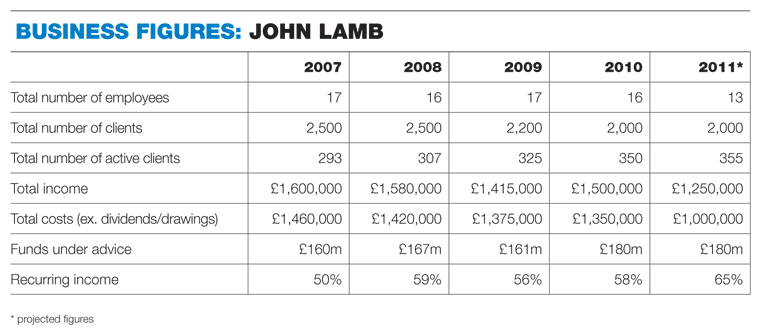 Independent monitor
John Lamb uses Independent Strategic Research (ISR) to monitor SLW and make sure it meets Galatea's investment aims. ISR also constructs the firm's six risk-rated model portfolios by recommending actively managed funds for each. John Lamb's investment committee then vets and confirms these at its monthly meetings.
The firm uses discretionary fund managers (DFM) for amounts of more than £1.5 million. DFMs they have offered in a beauty parade include Veritas, NM Rothschild, Berry Asset Management, Ruffer, Newton and SLW.
Total expense ratios (TERs) for DFMs are typically 1.1% or 1.2% net of adviser fees. John Lamb charges between 0.7% and 1% ongoing. TERs are 2.24% for Galatea and 1.95% for an average model portfolio.
Time costing
Steele says a flaw of the ongoing percentage fee model is that advisers' income is subject to the vagaries of the stock market. 'I'm quite keen on getting paid,' she grins.
John Lamb records time on Sage Coretime software and invoices clients if it goes over the percentage fee and refunds them if it goes under. The main downside to this model, say Steele and Edgar, is that clients often query the amount of time the work takes. At between £175 and £295, hourly rates for advisers seem reasonable for the firm's location, which is on Southwark Bridge Road, a short walk from the City.
Steele believes it is essential to keep the time-cost element, however, as new clients come from both lawyers and investment banks, and in the case of the latter the investment work usually remains with the banks.
'In that case, we will limit that advice to the pension side or whatever it is they need. We do quite a bit of limited advice/project work.
'Fewer IFAs want to do the project work because there are no assets to manage. As more move into the 1% world, having no assets is a problem.'
Paula Steele CV
CAREER
2003-present John Lamb, managing director
1992 Bought business back from SBJ
1988 Sold part of business to SBJ (Steel Burrell Jones, Lloyd's brokers)
1984 Part of management buyout team of John Lamb
1978 John Lamb Partnership, technical assistant to John Lamb
1974 Property Grown Assurance, actuarial trainee
PROFESSIONAL MEMBERSHIPS/QUALIFICATIONS
G10, G20, G30, G60, H25

Associate of Personal Finance Society
A hurdle in RDR preparation
As with many other firms preparing for the retail distribution review (RDR), Edgar took steps to ensure the advice and investment proposition is delivered consistently across the business. This was straightforward to do but it had a potentially disastrous consequence in that three advisers out of seven left in quick succession in early 2011. The reasons for each adviser leaving were different and not just about adapting to the new system, but the changes did play a part as the advisers felt some control and autonomy was being taken away.
Steele says: 'We probably saw a 20% drop in revenue but hung on to our profit margin, mainly by working harder. Since then two internal people have stepped up to the plate. It was a great opportunity for them because they picked up a range of clients they would never have had so quickly. A new senior associate joined us and Donna Buffham, associate director, came back from maternity leave, thank goodness.'
However, there was 'huge navel gazing' about what had gone wrong.
'Part of that was we were pushing them in terms of tightening things up,' says Steele. 'But the industry is short of people coming through. We are a training practice. We won't take you on unless you are a graduate, we pay for exams and give study leave. It is quite a commitment. We increase salary by £680 each time you pass an exam and if you get a merit or distinction, you get an extra £1,000.
'Very few IFAs are training. We need to address this as an industry because our trainees get poached. Lawyers all agree not to poach people on training contracts. We need training contracts set up through the Personal Finance Society or Institute of Financial Planning, with the general consensus that other members won't poach,' she says.
Insurance business
One of the first big challenges Steele anticipates in the future is splitting out the firm's general insurance business. 'Under Mifid II, it looks as though you are not going to be able to run insurance conduct of business (ICOB) business through a COB firm. ICOB controls general, term and non-investment protection insurance. If it is an investment contract, it falls within COB. But ICOB is not covered by the RDR, so commission continues to be paid.
'I always thought there was going to be an issue within an independent firm of how you would do the ICOB business on commission. The challenge for the industry is what is going to happen to it.
'We expect to have a completely separate ICOB firm. We can afford to do that because we have a specialist life insurance broking desk within John Lamb.'
Some firms may not be able to do that so easily though. Edgar says: 'If you generally take a commission on whole of life insurance, what is going to happen in 2013?'
Steele says: 'That whole product range will disappear. The impact of RDR will be that we lose a range of solutions. Also banks will have far greater share [of the mass affluent/lower net-worth] market. They are vertically integrated and can take their profit where they want to, from the advice to the product.
'With RDR, there is no control at the manufacturing level and banks will provide nearly free advice. Product charges, which don't go near the adviser, will go up.'
Edgar adds: 'And the adviser will be paid a salary by the manufacturer.'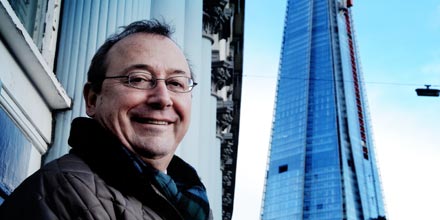 Campbell Edgar CV
CAREER
2010-present John Lamb, head of private clients
2007-2010 Andersen Charnley, consultant director
2000-2007 Bloomsbury, partner
1994-1999 Prudential, branch manager/technical training manager
1989-1994 American Express/ACUMA, district manager
1985-1989 Schroder, consultant/sales manager
PROFESSIONAL MEMBERSHIPS/QUALIFICATIONS
FIFP

FFPS

CFP

Chartered financial planner

President of IFP (2002-04)

Financial planning director of Distribution Technology (2004-06)
The gender balance
Steele is not short of a punchy opinion about many other aspects of the profession, one of which is the lack of female advisers. 'We have more female advisers here than males,' she says.
'You need more of a training culture for them, such as we have. You can't just send them out on the road in that old sales environment.
'The other problem is that there are still some chauvinists in the industry, who are not appropriate to manage lots of young girls.'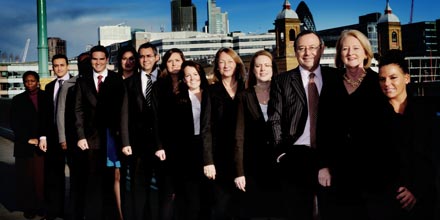 Teamed up: (L to R) Holly Marella, office administrator; Paula Steele, managing partner; Campbell Edgar, head of private clients; Alison Bennett, associate; Isabelle Woolland, graduate trainee; Mischa Norris, senior associate; Stefani Rogers, paraplanner; Justin Lloyd, head of operations; Claire Menni, associate; Joyce Ismael, business support; Luis Munoz, business support; Mark Royal, accounts; David Gruenstein, senior associate.
The long view
Neither Steele nor Edgar plan to retire soon. Steele says she hopes to sell the firm at some time and will assess the market after RDR.
'The industry is going to be much smaller, thanks to exams and capital adequacy,' she says. 'That means you become a premium product. But whom would we sell to? We are fussy about where we might end up. We wouldn't sit well in an investment house, we have no wish to be a national or to run more than one office.
'It would be lovely to grow the firm though. We might grow enough young people who can take over,' she says.
'We have enough work for two more advisers right now,' says Edgar. 'It could be sold to a law firm under the new Legal Services Act. There are all sorts of blue sky ideas.'
Edgar's hobby is cycling and he genially lives by the motto 'happy wife, happy life'. He also seems to have happy children (two daughters and a son), as all three of them have married in the past three years. As a result, he says: 'My personal balance sheet needs a lot of attention.'
Steele's three children and their offspring take up a lot of her time outside work. 'I garden, I train in the mornings, and I box,' she says. 'Boxing is the best stress relief. I no longer stay in the office as I did, but that is because I can go home and log on.
'If you advise private clients, you have to understand it is a 24/7 job. You are advising people about their lives. If you get it wrong, you are going to impact on them and their future and you are no good as an adviser unless, somewhere, that hits you. So you have to care and because you care, you tend to stress out of office hours.
'There are clients we have had for 50 years. We are part of their lives.'
Five top tips
Keep fit and healthy

Maintain high energy levels

Work hard

Work smart

Have fun