Nearly 30,000 people lost millions and millions of pounds in savings when investment firm Keydata went bust two years ago. And the battle for compensation is still raging today.
It took until last month for Norwich & Peterborough (N&P) building society to finally agree to pay £53.9 million in compensation to 3,200 customers whom it advised to invest in Keydata.
But what about everyone else? Who has been paid compensation and who's still waiting?
A recap
Keydata was declared insolvent and shut down by the Financial Services Authority (FSA) in June 2009, after it was discovered the firm was wrongly selling investments as tax-free ISAs (individual savings accounts) when they in fact didn't qualify.
When Keydata was then unable to pay the £5 million fine demanded by HM Revenue & Customs, it was put into administration under the control of PricewaterhouseCoopers (PwC).
When PwC started to investigate Keydata's accounts however, many more skeletons began to emerge from the closet.
It turned out that £103 million of savers' money that was supposed to be invested with the Luxembourg-based firm SLS Capital had disappeared. Two years on, the money is still missing and the Serious Fraud Office is still investigating.
Who was affected?
According to PwC, at the date of the administrators' appointment Keydata serviced 260,000 investors with investments totalling some £2.85 billion.
Most of Keydata's work, however, was to act as an administrator of products for big companies such as Morgan Stanley and HSBC. This money was held in a separate account and therefore when Keydata went under these investments were unaffected and just moved to another company to be managed.
The problems stemmed from the investments Keydata provided itself – the Keydata Secure Income Bonds, Keydata Defined Income Plans and Income Property Bonds. It is investors in these bonds who suffered losses.
SLS and Lifemark
The key players
David Elias

Dubbed 'the man behind the missing money', Elias was responsible for creating the life settlement firm SLS Capital, from which £103 million of Keydata investments vanished.
To this day we still don't know for sure exactly what the suspected fraudster and controversial businessman Elias did with the cash. And unfortunately no one can ask Elias what happened because he died in May 2009, aged 54, while living in Labuan – a renowned tax haven in Malaysia – after skipping town. Though conspiracy theorists among us are not so convinced the fugitive is really dead...
Stewart Ford

Stewart Ford is the owner of Keydata, having founded the company in 2001. Ford, who is currently under investigation by the FSA and SFO, denies having anything to do with the controversial businessman David Elias – as do the other two directors of Keydata Mark Owen and Craig McNeil. Ford is now openly critical of how PwC has handled the firm and the FSA's decision to shut the company down. Interestingly, Ford admitted managing to squeeze nearly £40 million in fees and commission out of people who invested in Lifemark funds and had them paid to a British Virgin Islands company called LAS Global, which is owned by a Ford Family trust.
Dan Schwartzmann and Mark Batten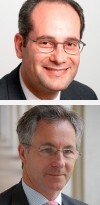 In the PwC camp we have Dan Schwarzmann and Mark Batten. Both are partners at PwC and were appointed as joint administrators of Keydata on Monday 8 June. These are the guys who are desperately trying to unravel Keydata's accounts, and had to break the bad news that £103 million of investors' money was missing in the summer of 2009.
Eric Collard

Eric Collard, of KPMG, is a provisional administrator for the Luxembourg-based Lifemark. He is working with Luxembourg's financial services regulator, the Commission de Surveillance du Secteur Financier, to help Lifemark restructure its debt.
Other names in the news
Jack Irvine, of Media House, is Ford's spokesperson. He is responsible for breaking Ford's year-long silence, by answering questions from the press on Ford's behalf.
Gareth Fatchett is a lawyer for Regulatory Legal, and is known for fighting on behalf of N&P customers whom he believed had been given poor advice.
Matthew Bullock is currently the chief executive of N&P, though he announced in January that he will be stepping down as soon as a replacement has been found.
Peter Magowan, a Keydata victim himself, is responsible for setting up the Keydata Victims action group which has helped investors recover their money – though he has stepped out of the limelight in recent months. Another well-known Keydata victim and campaigner meanwhile is Peter Roy Hilton.
Keydata used the money invested in its own bonds to buy second hand US life settlement policies from two Luxembourg-based companies called SLS Capital and Lifemark.
Renowned for their controversy, second hand life insurance policies – aka 'death bonds' – are bought from US individuals suffering a terminal illness who wish to raise money. Investors continue to pay the premiums and then collect the payouts when they mature.
When Keydata went into administration, PwC soon discovered that £103 million of savers' money invested in SLS had vanished and declared the company insolvent.
Lifemark meanwhile was originally thought to be safe and was put into provisional administration. Eventually however, despite receiving bailouts from N&P and a US hedge fund, it emerged that the investments could no longer keep up the promised monthly payments and while the assets are technically still there, they are probably worthless.
According to figures from PwC a total of 5,326 people had investments in SLS and 19,176 (23,000 including non-UK investors) in Lifemark.
Who is eligible for compensation?
Ordinarily when you invest in an FSA regulated company your investment is covered by the Financial Services Compensation Scheme (FSCS). Under this safety net you can claim up to £48,000 in compensation should the firm go bust – 100% of the first £30,000 and 90% of the next £20,000.
However, the FSCS will only pay out if the regulated UK company is at blame for the loss. In the case of Keydata it was the underlying companies SLS and Lifemark which caused the trouble and because they are not FSA regulated the FSCS will only pay out if the investor can prove Keydata or the firm that advised you to buy the investment mislead you in some way.  
If your investment was sold to you as an ISA you should be entitled to compensation as Keydata failed to ensure the bonds were listed on the Luxembourg stock exchange which is necessary to meet ISA tax rules.
If you have a non-ISA investment, however, it is up to you to prove Keydata breached its contractual obligations in some other way. The FSCS said it would deal with claims on a case by case basis.
What claims is the FSCS dealing with?
The FSCS began accepting SLS claims as soon as PwC declared the firm bankrupt back in the summer of 2009.
Lifemark investors on the other hand were left waiting for well over a year to find out if they could seek redress while it was being investigated. At the end of last year however the authorities finally ruled that the investments were worthless. This meant Lifemark investors could start applying for compensation from the FSCS.
Meanwhile, a small number, some 222 investors who had money in Keydata income property bonds – also known as category 4 bonds – have also just been told that the FSCS will process their claims. The bonds were invested in US property through a company called Hometrak. The investments however later defaulted on promised income payments, and while Keydata bridged the gap using its own funds for a while, they have not paid out since Keydata went under.
How much compensation has actually been paid out?
According to figures from PwC, the estimated loss to investors was:
SLS Capital - £103 million
Lifemark - £503 million (assuming that no recovery is possible from Lifemark)
Hometrak - £2 million
The FSCS meanwhile said that so far it has paid out a total of £277 million in compensation.
It could not however tell us how much of this has been paid out in SLS claims and how much in Lifemark claims. The FSCS was also unable to tell us how much had been paid out to people who had invested through an ISA and how much had been paid out in non ISA claims.  
The FSCS said that in total it has paid just over 5,173 SLS claims, rejected 301 and has 176 still in progress. With regards to Lifemark claims, the FSCS said it has paid out on just over 15,060, rejected 70 and has 1,890 claims still in progress. And the FSCS has paid out 48 claims to people who had money in property bonds bought via Hometrak, rejected 1 and is currently dealing with just over 170.
There are also 1,880 Lifemark claims where an application form has been sent but not returned, and the FSCS is still waiting on 351 claims from SLS and Hometrak investors.
It should be noted that these figures don't quite match those given to us by PwC as to how many people invested in the Keydata funds. PwC was unable to explain why this might be.
And according to PwC hundreds of people had also invested above and beyond the FSCS compensation limit and it's unlikely these people will get that money back.
The building society Norwich & Peterborough meanwhile has agreed to pay £53.9 million to customers it advised to invest in Keydata products, and has been fined £1.4 million by the FSA for mis-selling. It has also agreed to pay back the FSCS for some of the money it has already paid out to N&P customers.
A confusing mess
Using the figures provided by both PwC and FSCS we can see that investors are still more than £300 million out of pocket. And it isn't clear how much more will be paid out by the FSCS in compensation.
What's also interesting is that the Lifemark investments technically still exist, so there is money there somewhere. And if there isn't, it is possible that there might be one day. Whether investors will see any of it ever again is a different matter.
Two years on, it's still a waiting game. Watch this space.